North West Walls have been a striking feature of the Festivalpark since 2014. Rock Werchter has shown that art has its place at a music festival and that it works. North West Walls has lent the festival fabulous artistic allure. As art projects go, this is a highly ambitious one. North West Walls is a mark on the landscape that can be admired long after the festival period has ended. It is a permanent installation. But then again it is not. Because it looks different every year. For NWW#8, curator Arne Quinze has invited six top street artists: Ratur (France), Ben Peeters (Belgium), Sophie Mess (UK), Pastel FD (Argentina), Iota (Belgium) and Caratoes (Belgium).
Latest news
Happy to present the 8th edition of North West Walls, Rock Werchter's street art project.
A few days ago, the metres-high walls of the container structure were painted over in neutral colours, erasing last year's murals. Under the auspices of curator Arne Quinze, top international street talent will bring the walls to life again in the next weeks. This year, Quinze has invited Ratur, Ben Peeters, Sophie Mess, Pastel FD, Iota & Caratoes.
Stay tuned for updates!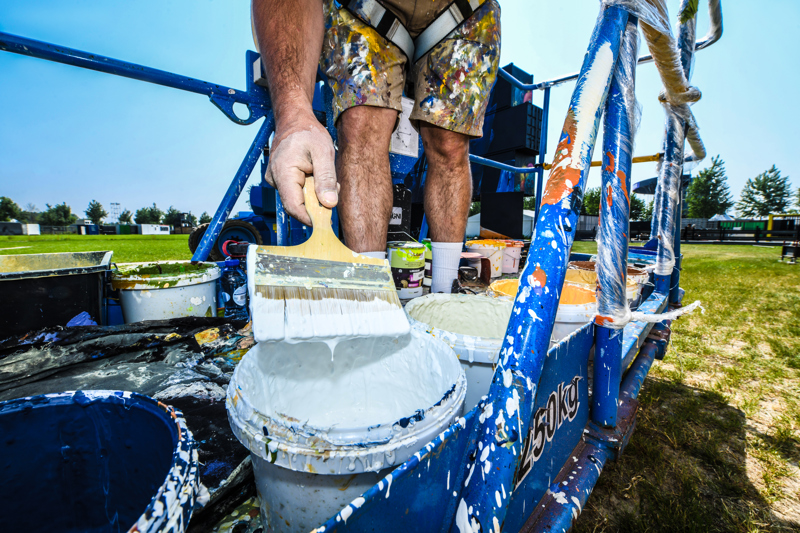 NWW8 is ready to be admired
New murals adorn North West Walls, Rock Werchter's street art project. 
Over the past few weeks, Caratoes (Belgium), Iota (Belgium), Sophie Mess (UK), Pastel FD (Arg), Ben Peeters (BE) and Ratur (FR) have completed their artworks on the container towers of North West Walls. Starting Werchter Boutique, which takes place on Saturday 17 June, the works can be enjoyed at the Festivalpark for a whole twelve months, by festivalgoers only at first, then street-art lovers outside the festival period.
Once again, the Werchter festivals promise to be unforgettable. Whether Rock Werchter, TW Classic or Werchter Boutique - true to tradition, all three will present an outstanding musical line-up. North West Walls, Rock Werchter's very own street-art festival, has big names of its own to introduce. Curator Arne Quinze has invited a considerable Belgian delegation for the eighth edition of North West Walls: Caratoes, Iota and Ben Peeters. And he also invited international artists Sophie Mess (UK), Pastel FD (Arg) and Ratur (FR).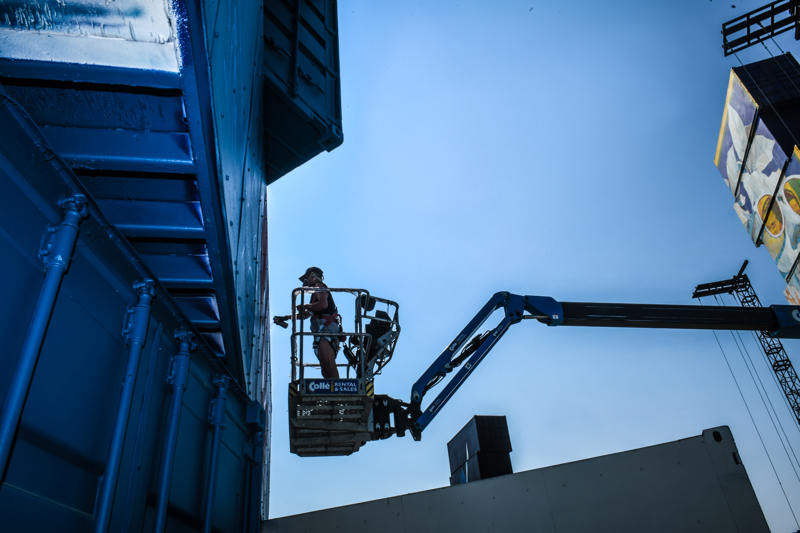 Meet the artist - Ben Peeters (BE)
Ben Peeters is a Belgian artist based in Hasselt. Ben explores the boundaries between fiction and reality. His art evokes a personal and imaginary world. Organic structures, landscapes, elements of plant life and abstract, vivid, and colourful shapes combine to create a curious mixture of movement and contrast. His work is playful and triggers the imagination of the viewer with ideas of freedom and happiness.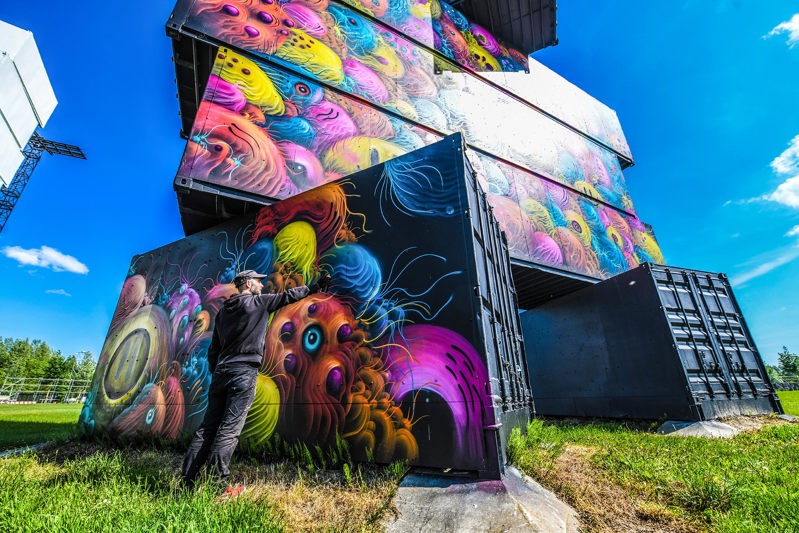 Meet the artist - Iota (BE)
Iota is a Belgian artist living in Brussels. Her current work was inspired by paintings of classical figures and art nouveau. She works on the representation of the human soul in all its forms. By mixing bodies, textures and materials, she transports us to a world where the unconscious merges with reality and models it to infinity. Her murals are mysterious, and it seems as if we are diving into one of her dreams.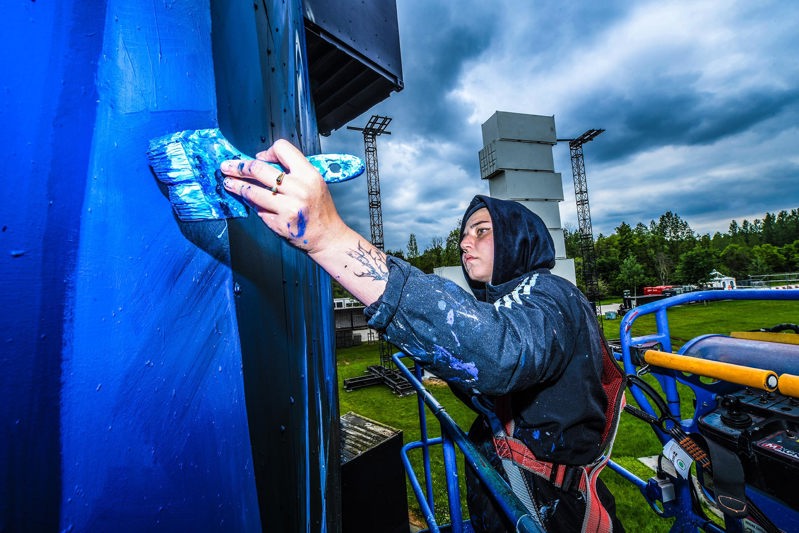 Meet the artist - Ratur (FR)
Ratur (France) has always felt a sense of closeness to nature, a connection that is the driving force behind his work. After finishing his training in graphic design, he turned his focus to the canvas and to creating murals. Ratur's art challenges us to think anew about nature and all its beauty. He has participated in countless mural festivals and art shows all over Europe and the United States. Fun fact: Ratur's brother Sckaro participated in North West Walls in 2019.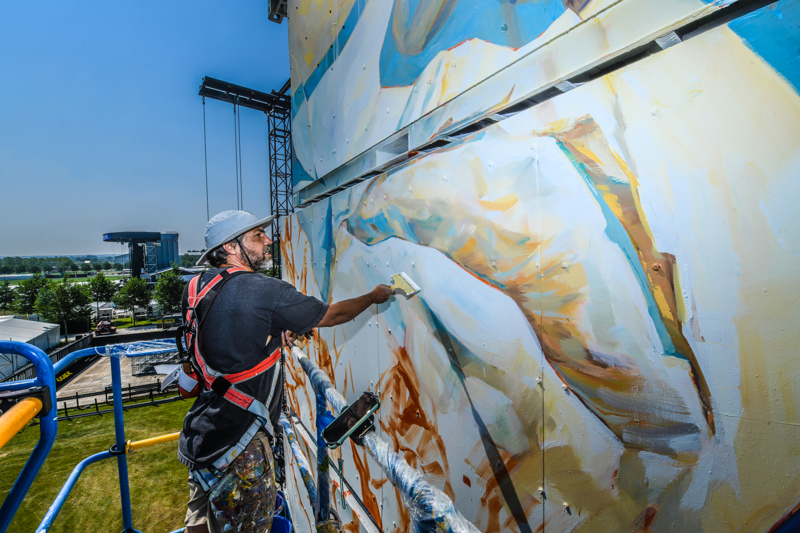 Meet the artist - Pastel FD (ARG)
Francisco Diaz Scotto (Argentina) is a painter and architect from Buenos Aires. Unlike a conventional architect, he understands that public spaces work therapeutically as a form of urban acupuncture. He also explores the impact of his work on the environment. The plants and flowers that he uses as a reference in his paintings are those that grow in the cracks in pavements and facades. By taking these small plants and glorifying them through magnification, he questions aspects of modern society.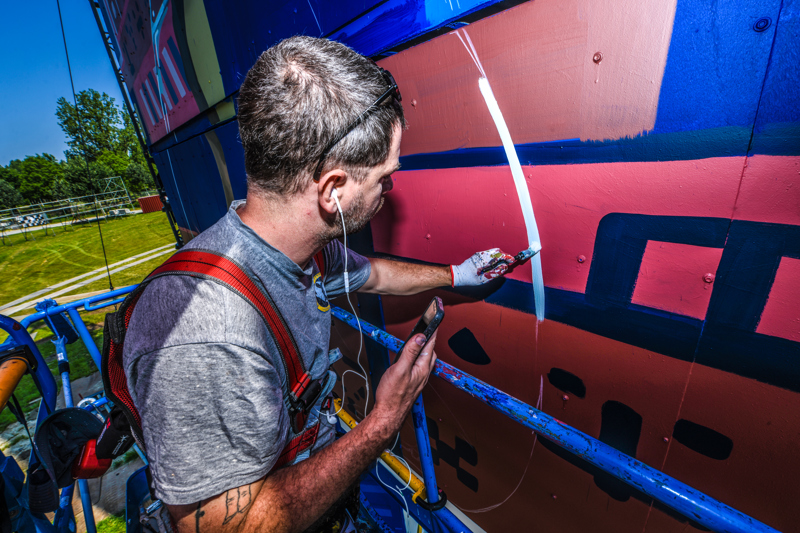 Meet the artist - Sophie Mess (UK)
Sophie Mess (UK) didn't attend art school, nor did she grow up painting graffiti. But the pull towards creating art was just there. In London, she learned from some of the best artists in the country, honing her skills and working in the mural industry as an artist and project manager. Travelling wherever her art takes her, both UK and worldwide, her dreamy large-scale botanically inspired murals add colour and joy to the environment and bring to life beautiful supersized flowers and birds. Her inspiring words transform spaces and inspire positivity.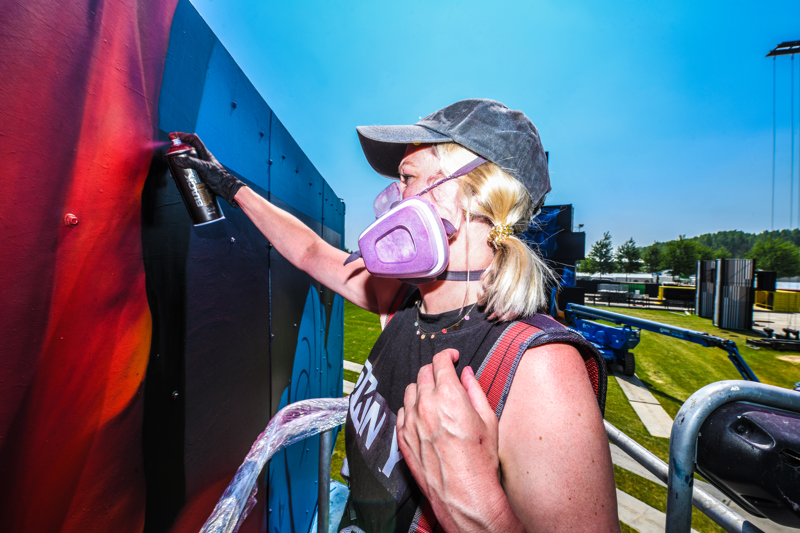 Meet the artist - Caratoes (BE)
Caratoes is a Belgium-born illustrator and contemporary artist who lives and works in Hong Kong. In her work, she fuses mind-blowing neon lights with flowing, tenuous linework that has a hypnotic gestural quality. She sees herself more as a space designer, making inimitable pieces that increase the beauty and serenity of a place. Through a fusion of fragmented reality and abstract shapes, Caratoes paints her personal feelings and needs.